Kyiv School of Economics derives from English-language Master's Program in Economics, which was established in 1996 by the Economic Education and Research Consortium (EERC) and the Eurasia Foundation.
In 2006, the Master's program grew up into an independent educational institution – Kyiv School of Economics. And a year later, the quality of the Master's program in Economic Analysis was confirmed by the University of Houston, that considers the School as its foreign campus. Currently, KSE students are eligible to get a University of Houston diploma (in a case of satisfactory academic progress) if they are studying in MA programs in economics, business and finance economics, and mathematical economics and econometrics.
In 2013, Kyiv School of Economics has launched a 1.5 year MA program in Business and Finance Economics aimed at those who want to gain an understanding of economy and start a career in the private sector as soon as possible.
Since 2015 KSE is governed by its alumni. They are present in the Board of Directors, International Academic Board as well as Management Team. KSE Honorary President Tymofiy Mylovanov is a KSE graduate (KSE`1999) too.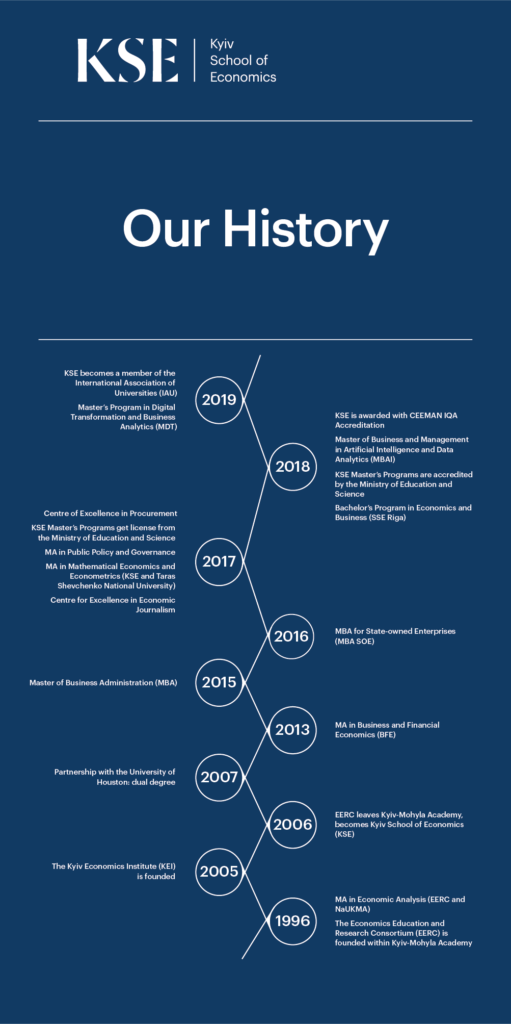 The synergy of alumni dedication and their expertise in various fields has led to the rapid development of the School. In 2015, Kyiv School of Economics began to teach entrepreneurs, real Doers who want to change the world – the MBA program was added to educational programs of the School. And a year after, an MBA program for managers of state-owned enterprises was developed and launched.
At the same time, in the framework of  theUSAID project "Transparency and Accountability in Public Administration and Services" and in cooperation with the project "Harmonization of Public Procurement System in Ukraine with EU standards" Centre of Excellence in Procurement at KSE was launched. The Centre is providing a research activity and develop a midterm Program of excellence in procurement.
In 2017, Kyiv School of Economics launched 2 new MA programs – the Economics Department has added to its educational programs a Master's Program in Mathematical Economics and Econometrics, and the newly established Department of Public Policy and Governance has launched the Master's Program in Public Policy and Governance. The Department of Policy Research, in collaboration with VoxUkraine, Visa and ICU, founded the Center for Excellence in Economic Journalism, that conducts researchers direct on media environment, and teaches journalists from economic media in the program "Economics, Markets, and Data Analysis".
In 2017, the master's programs of the Kyiv School of Economics were licensed by the Ministry of Education and Science of Ukraine, and in 2018 they got state accreditation.
In 2018, the list of KSE educational programs has been expanded by MBA in Artificial Intelligence and Data Analytics and Bachelor's program in Economics and Business (jointly with Stockholm School of Economics in Riga).
In the 2021-22 academic year KSE opens two English-language bachelor's programs: "Economics and Big Data" and "IT and Business Analytics".